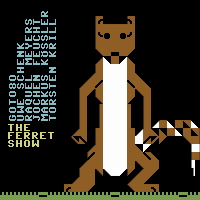 Animation: Raquel Meyers
"The ferret show", ein Musical für C64 und Band.
Hier die Live-Performance anschauen.
Liveaufzeichnung der Uwe Schenk trifft… Sendung mit Goto80, Raquel Meyers, Jochen feucht, Markus Kössler, Torsten Krill und Uwe Schenk.

"… This is probably the first musical that combines C64 and text graphics, with acoustic instruments and improvisation. Goto80's music was re-arranged for 4 musicians, according to the story of the ferret." Schreibt das Internetlabel "upitup" in den Liner Notes zum Release der Produktion.